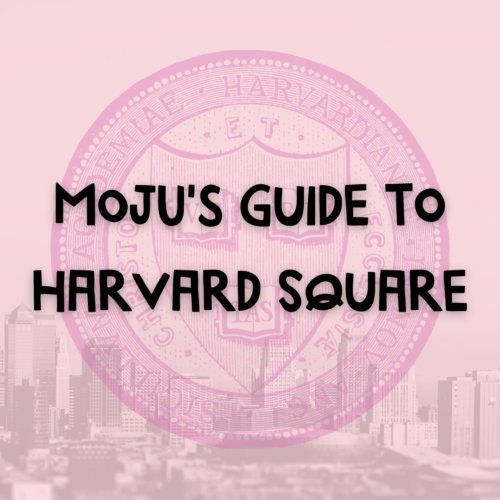 Julia & Cait's Fave Things to Do In Harvard Square
As you all know, we've gone to college!!! Aka, we're now OFFICIALLY open at our sixth location in Harvard Square within Harvard University's Smith Campus Center!!! (and if you didn't know, now you know!) We are absolutely loving our first semester – #JuiceSchoolFreshmen. Since we're all new here, we thought you might need someone to show you around. That's why Julia & Caitlyn have compiled a list of their favorite things to do in Harvard Square while sipping on their MOJU smoothies. Check out the list below and come visit us after you finish your homework!
Julia's fave things to do:
Harvard Museum of Natural History: Sure, sure, sure, they might have made A MOVIE about the New York City Museum of Natural History but that's ONLY because the producers never visited the one on Harvard Campus (this isn't a fact but we're left to assume this is true because surely if they had, the film would have been set in Cambridge). This museum has IT ALL. We're talking dinosaur skeletons, an insanely large collection of life-like glass flowers and if you really want your mind blown by the beauty of ~nature~ make sure you set aside plenty of time to soak in the stunning colors and textures found in the Rocks & Minerals collection. BONUS! Admission is free certain days/times for MA residents – more info here!
Brattle Square Florist: A trip to Harvard Square (or in our case, anywhere really) wouldn't be complete without impulse buying some flowers or a new plant! Brattle Square florist offers plenty of unique plants to spice up your #PlantMom collection at home.
Cait's fave things to do:
See live music at the Sinclair: One thing we care about a LOT at Mother Juice is control of the aux cord. (aka, we take our music selections very seriously.) That's why seeing a concert at the Sinclair is a must in Harvard Square. This venue is described as "a live-music venue & American kitchen with gastropub influences." (Yes, there's a restaurant, too.) It's a pretty intimately sized venue which usually makes for a stellar energy among the audience and performers! See their lineup here!
Get a coffee and breakfast at Bluestone Lane: Literally their oatmeal has edible flowers on it. That's it. That's the description.
Seriously, though, Harvard Square's Bluestone Lane is the cutest, 2-floor café that serves Aussie-style coffee and fare. Looking to feel like you're in Australia for a while during your adventure to Harvard Square? This place was designed to blend the aesthetics of Sydney and Melbourne! And again, hiiiighly recommend the oatmeal. – Check them out here!
Sit by the Charles River: We do, indeed, love that dirty water. The Charles River is simply picturesque and a perfect place for picnic-ing, people watching, reading, meditating, tanning, kayaking…all of the activities you could possibly think of to do by a body of water; we suggest doing them by the Charles. Plus, the view of the city skyline from the river is sure to make your jaw drop.  
See street performers: If your trip to Harvard Square had a movie soundtrack, it'd be filled with the music of absolutely awesome street performers & buskers. You can find them sharing their music on almost every corner. If you have some extra cash on you, be sure to toss it their way! 
*co-authored by Caitlyn Burns + Julia Burns