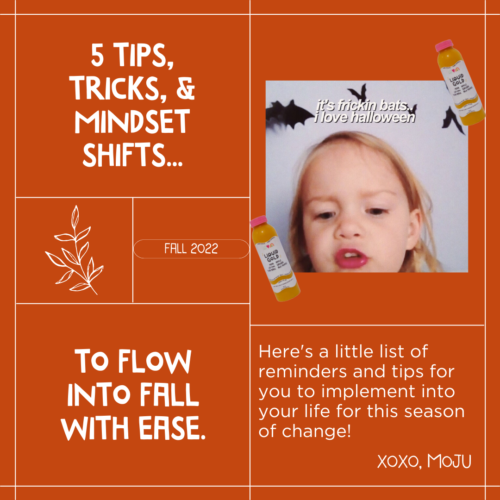 Tips, Tricks, and Mindset Shifts to Flow into Fall with Ease
Fall is in the air. The season of pumpkin spice lattes, fall menus (who's excited for the MOJU fall menu rollout!?), cardigans, dogs in Halloween costumes, and that back-to-school/back-to-work flow.
We know how it can be when it comes to change. It's not always easy to transition into something new when we've been in the Summer mindset and routine. That's why we've compiled a little list of reminders and tips for you to implement into your life for this season of change!
5 Tips, Tricks, and Mindset Shifts to Flow into Fall with Ease:
-get rid of the all or nothing mindset.
Any type of transition and change can be hard on us! We have been operating in the summertime mindset for months now, so getting into the school/work headspace right away is going to feel uncomfortable at first. Take the pressure off of yourself to handle this transition perfectly and instead, embrace the bumps in the road. Just like the Earth, we go through seasons, too. Not every season of life is supposed to be the most productive "grind-time" of our lives. As the weather starts to get more brisk and as the leaves start to fall, we begin to feel differently within. Maybe we have a bit less energy, we don't want to go out as much, etc. It's okay to honor that and move forward from that space.
-make a list of your intentions for this season of life.
While we don't need a new year, new month, or new season to implement change into our lives; it definitely doesn't hurt to use these things as an incentive to do so. Now is a good time to let go of any habits, routines, ways of being, or people who aren't feeling aligned with our highest good anymore.
Making a list of intentions for the season is a bit different than making a list of goals. The intentions are more about the energy we're looking to bring into the season and our motivation behind why we're doing what we do! Coming back to our why is always going to be a nice reminder to keep us going when the leaves start to fall off the trees and we're feeling less inspired to take action.
-pick one goal/habit to focus on at a time.
When back to school & work season comes around, we can often get into this headspace of feeling like we need to change our whole lives in one-go. This can get overwhelming and cause us to burn out pretty fast. Instead of trying to implement a whole list of new habits at once and then giving up entirely when we "fall off track," we should try one new habit at a time.
See what happens if you implement one new habit per week. It could be something as simple as, "This week I will drink more water," or, "Next week I will tidy up each night for 10 minutes before bed," etc. Most often, it's these small consistent steps that are going to create the biggest and most lasting change in the long run.
-incorporate seasonal veggies into your diet!
Eating what's fresh and in season not only ensures we're getting some of the best tasting produce, but also ones that are going to bring the most benefits and nutrients to our body for this season! Not to mention, produce that's in season is typically a bit easier on our wallets, too. Some produce that are in season right now are apples, sweet potatoes, squashes, fennel, brussels sprouts, cabbage, eggplant, beets (hi keen-whaat! salad), and more!
-make a new playlist & curate your favorite fall vibes.
There's no season that hits on all of our nostalgia points more than Fall. The smells, the holidays, the tastes, the memories, the football, the family time, and yes, the music. Take 15 minutes to put together a playlist that is filled with your favorite Fall jams. Whether it's Taylor Swift or the Smashing Pumpkins that gets you into the autumnal vibe, we don't judge! Every time you put your playlist on, you'll be glad you took the time to make it. Light the pumpkin spice candles, put that cinnamon in your coffee, have those cozy movie nights. Like we said before, our bodies and our spirits can really feel the changing of the seasons. So, leaning into that Fall energy and allowing yourself to feel all of those feels is going to be a great release and good for the soul!