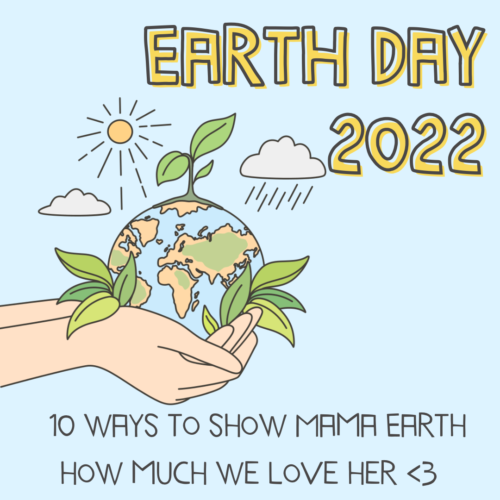 10 Ways to Show Mama Earth You Love Her, That You May or May Not Have Heard Before
Sustainability. We've heard the term many times before. And by now, we know we've got to remember to fill up our Hydroflasks before we head out the door so that we don't end up needing to buy a plastic water bottle. We know it's important to recycle, to bring a reusable bag, etc. And yet, it often still seems to bring about that underlying feeling of, "Am I doing enough? Am I really making a difference?"
In short, yes. Our small efforts definitely add up. We might not think we can make an impact as individuals, but every little step counts! By being proactive and continuing to find new ways to spice up our sustainability routine, we can keep moving in the right direction. In doing so, we'll be honoring Mama Earth on the daily aanndd we also might be able to eliminate some of our own climate anxiety along the way.
Here are 10 not-so-basic ways to show Mama Earth that you love her:
Eat locally: The less distance the food has to travel to get from the farm to your plate, the less carbon emissions used! We love visiting the Copley Square Farmers Market in the summertime and it's right around the corner from our Newbury St. location 😉 —> https://www.massfarmersmarkets.org
Choose your receipts: Whenever you have the option-have your receipts emailed to you instead of printed!
Don't throw away your Motorola Razr: Did you know there are places where you can literally take your electronics to recycle them!? Electronic recycling facilities will break down your electronic devices into their individual materials so that they can then be disposed of properly, or even re-used!
(check out Earthworm Recycling in Somerville! —> http://www.earthwormrecycling.org/index.html)
Thanks, it's vintage: Go thrifting!!! It's fun. It's more affordable. It's sustainable. (Bonus: Donate your old clothes instead of throwing them away, or have a clothing exchange party with your friends!) We love shopping at the Cambridge Antique Market, Buffalo Exchange and Garment District!
Gift-giving: Consider alternate ways of wrapping gifts! Try using reusable fabric, newspaper or a thrifted tote bag instead of traditional gift bags/wrapping paper.
It's giving Lady Whistledown: Writing in your journal late at night? Save electricity by lighting some candles instead of using fluorescent lighting. It sets the vibe and it's eco-friendly. Check out Noted Candles in Allston, MA for sustainable and handmade candles! → https://www.notedcandles.com
You knew this one was coming: Eat more plant-based meals! Even one just plant-based meal per week can make a difference. (According to a study, if everyone in the US went plant-based for one day, we'd save 100 billion gallons of water and we'd reduce greenhouse gas emissions by 1.2 million tons of CO2.)
Laundry day: Wash your laundry with cold water whenever possible & then hang them to dry! Air drying clothes also lengthens their lifespan so things don't wear out as fast. (shoutout to our very own sustainability queen, Julia, for knowing this cool fact.)
For the artsy folks: Doing a lot of interior design/home remodeling? Don't throw away your leftover paint! Donate it instead. Research & contact organizations in your area that accept paint donations, like Boston Building Resources. —> https://www.bostonbuildingresources.com/donate-building-materials
In the kitchen: Purchase some reusable food wraps for the kitchen instead of saran wrap and foil, and use tupperware over plastic baggies whenever possible! We love shopping locally for sustainable swaps at the Uvida Shop in the North End and East Boston! —> https://www.uvidashop.com
Resources:
https://www.theguardian.com/environment/2002/aug/22/worldsummit2002.earth21
https://www.greenmatch.co.uk/70-ways-to-save-the-earth
https://www.sierraclub.org/toiyabe/100-things-you-can-do-save-planet