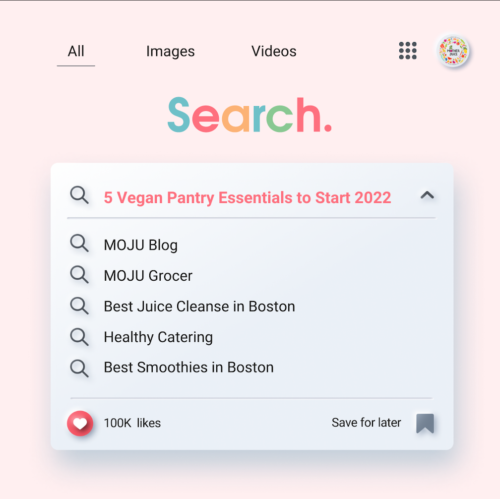 Vegan Pantry Essentials To Start OFF 2022
Something about the New Year just makes us want to EAT. SOME. PLANTS. Okay, every day makes us want to eat plants but something about the New Year gets us in the mood to change it up, recipe test and try new ingredients. Whether one of your resolutions is to eat more #PlantBased, participate in #MeatlessMonday, try out #Veganism or not, we think that these 5 vegan pantry essentials are great for ANYONE looking to level up their cooking or switch it up in the kitchen in 2022.
Coconut Oil: If coconut oil were a person, it would be Kris Jenner because it does it ALL and serves as the backbone for so many other wonderful things. At MoJu you'll find it in our homemade almond butter, our baked goods, Butternut Squash Bisque, Buffalo Chickpea Mix and spread onto our Cinnful Toast. Not only is it an awesome vegan alternative to butter in baking and cooking, it has so many uses outside the kitchen! We love it as the base for a DIY toothpaste or DIY deodorant or for oil pulling. It's also amazing for your skin and works great in a pinch on your lips when you're missing chapstick. Coconut oil can be applied to cuts and scrapes, can be used as an alternative to eye makeup remover, or as a hair mask. So, take our word for it and buy a jar for your kitchen! And a jar for your bathroom. Maybe a jar for your car? Nightstand? We'll let you decide.
Cashews: I've never considered having a favorite tree before but it might just have to be the divine tree that gives us cashews. Cashews are a wonderful way to bump up the healthy fat, plant-based protein and fiber on your salads. We like 'em raw (helllooo Forbidden Rice Bowl!!) or roasted (Sweet potato *thinks* it's the star of our Thai Sweet Potato Bowl but really it's the roasted cashews on top). BUT we think cashews are best when BLENDED. Mmmmmm talk about creamy dreamy. Cashews soaked in hot water for a few hours serve as an amazing vegan alternative to things like cheese, cream, cream cheese – you get the picture. You can find blended cashews in our homemade queso sauce, our cashew mylk that's in our cleanses or our cashew cream cheese frosting that's served on top of our Carrot Cake Oats.
Nutritional Yeast: Aka NOOOOOOCH. Took me a WHILE to get into nooch because TBH, yeast (all types of it) is intimidating to me and the name Nutritional Yeast couldn't be less of a turn on. But PLEASE, I beg you, do not miss out on all of the years of nutritional yeast eating that I did by being confused and scared. It's not scary! Just buy it and then SHAKE, SHAKE, SHAKE it whereverrrrrr you want. It tastes cheesy and is an easy vegan swap for sprinkling parmesan on top of things. Think pasta, salads, soups, pizza. We use it in our homemade queso sauce, seed crackers and in our cashew parm that we serve with tomato bisque! And if I haven't sold you yet, nooch is a complete protein all it's own and is super high in B vitamins (specifically B12 which doesn't show up in ANY other plant based foods!? Whaaaat!?).
Chickpeas: Chickpeas are having a moment and we are so, so happy for them. They're showing up in more places than Pete Davidson these days! Pastas, pizza crusts, snack puffs, crunchy salad toppings – I could go on. But, let me just say, MoJu loved chickpeas ~before~ they were cool and we're going to continue loving them until long after the buzz has died down. Nutritionally, they're amazing! A great source of healthy fat, fiber for DAYS and a huge source of plant-based protein. They are the star of the show in some of our menu favorites like the Buffalo Chickpea Salad, the Herbie Bowl and our Chickpea Curry soup. And let us not forget HUMMUS!
Coconut Milk: Oh coconuts, you are too good to us. From your oil, to your flakes to your milk – we love every part of you. If nuts aren't your thing, look no further than coconut milk as a plant-based AND nut-free alternative to make things CREAMY. We use coconut milk in almost every single smoothie, blended into all of our smoothie bowls, as the base of our Health Bomb Bowl and our Chia Seed Pudding (RIP, iykyk) and in so many of our soups (Tomato Bisque, Butternut Squash Bisque & Chickpea Curry). We love it for its creaminess and its natural sweetness. Not unlike nooch though, coconut milk used to confuse me too. Boxes, bottles, cans! Milk, cream, light milk!? All we have to say about it at MoJu is, we love it all and we keep coconut milk on hand in ALL its forms. We recommend keeping your pantry stocked with a little of everything but if that isn't your style, just read your recipe closely and make sure you know which to buy!