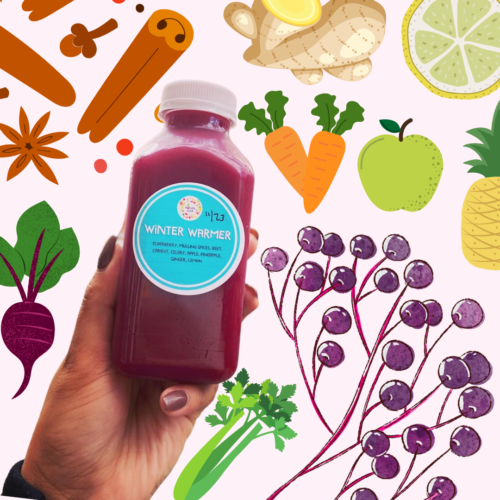 Elderberry love
You may have noticed a new seasonal juice on our menu – the Winter Warmer! The Winter Warmer is tasty for MANY reasons (helllooooo beet, carrot, pineapple, celery, apple, ginger, lemon & mulling spices!!) but this juice packs an even stronger immune boosting punch thanks to Elderberry Syrup!
Elderberries, which grow on the Sambucus nigra plant, are native to North America and can be found growing wild or in farms and gardens. The shrubs have green leaves, small white flowers and in late summer/early fall are full of dark, shiny elderberries. TBH, they're pretty cute and next time we do some landscaping at home, this shrub may make the cut… Cuteness isn't the only reason to get your hands on an Elderberry shrub or the berries themselves though.
Elderberries have a high concentration of polyphenols which act like antioxidants in your body to help fight free radicals. (ICYMI….free radicals are pesky atoms that have an unpaired electron which cause damage to your DNA resulting in mutations that can cause things like cancer – no thx!). Around cold & flu season you'll also probably notice more Elderberry products taking up space on shelves at the pharmacy and grocery store. Historically in many cultures, elderberry has been used preventatively to keep the immune system in tip top shape and to reduce the length and severity of colds once they happen.
We are lucky to buy our Elderberry Syrup from Sisters of Anarchy! Their syrup is made with elderberries, Marquette red grapes and raw crystallized honey. The Sisters of Anarchy grow their own elderberries and grapes on their farm in Shelburne, VT. In the summertime, you can find them slinging scoops of their farm-to-cone ice cream at local farmers markets like the Copley Square Farmers Market down the road from our Newbury Street store!
Sources:
https://www.healthline.com/nutrition/polyphenols#benefits
https://www.thespruce.com/american-elderberry-sambucus-canadensis-3269208
https://www.verywellhealth.com/information-about-free-radicals-2249103